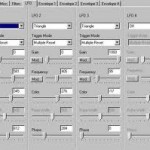 My first NAMM experience was in the Winter of 1997 and I got to see Seer Reality, and a lot of other great new software products on the floor.  1997 was a great year for computer software:  Personal Computer Music software was booming, driven by the mass availability of high quality audio cards, cheap CD burning, and improvements in computer speeds.  Most of what you could do in analog recording was now possible with an inexpensive PC, and it was faster and easier.  Being able to see the latest technology in those days was amazing.  I have been to NAMM several times since, but I have not seen as dramatic a change in music production tools since that first show.
I have been recording music for quite a while.  First, with a pair of cassette recorders in the 70's, then with a cassette-based 4-track in the 80's, then with a SVHS-based 8-track in the 90's, and now with computers.  One of the pivotal moments along that path came at NAMM in January of 1997, when Seer systems released the first professional software synthesizer for the PC called "Reality".
To be sure, sampling software synthesizers had been around on dedicated devices since the late 70's from companies like Synclavier and Fairlight.  On those systems, the software filled a role more like an operating system – commanding all the resources of the device with a guaranteed slice of CPU, rather than sharing the hardware with many other processes that could steal time slices away with no warning.  Dedicated hardware is expensive, with the early samplers costing more than $25,000.  The introduction of a professional quality synthesizer for the PC opened the door to great sounding instruments for everybody.
Reality was kind of a hybrid between the Windows Platform and a dedicated hardware platform.  Seer only runs on Windows 95 and 98 because it needs access to some hardware-level functionality that is not allowed on the later versions of Windows.  That functionality guaranteed Reality the responsiveness it needed to deliver a professional playback experience in real time.  Once Reality proved it could be done, a whole array of other software synthesizer products began to pop up.
Computer power had increased dramatically since 1997, and is now generally capable of powering a software synthesizer without having to reach down into the hardware level to make that happen.