Celebrating one year of broadcasts
NOTE: Grooveshark has suspended operations and the nuVibrations Broadcast is currently unavailable.
Back in March of 2014 nuVibrations began a 24/7 electronic music broadcast on Grooveshark.  I thought it would be a great way to cultivate a sense of community that was relevant to users of my VST Instrument. Because I have to keep the music interesting and relevant it has also turned out to be a great way for me to keep up on the latest software synthesizer sounds. Most of all I have really enjoyed all the great music I have discovered along the way!
At this point our electronic music broadcast has over 180,000 plays (counted by multiplying the number of songs played times the average number of listeners), and 61 followers. Once we ramp up the visibility of nuSpin and our sound libraries I expect that to grow significantly.  I have a subscription to Grooveshark, and use the grooveshark app (pictured at right) to manage the broadcast.  The playlist shows in the leftmost pane, I have a chat screen in the rightmost pane, and the middle pane shows the latest stats.
Anatomy of an electronic music broadcast
Grooveshark also allows me to record short clips so I can announce upcoming songs, give a shout-out to new listeners, or just get crazy. I have also recorded some station identification bumpers using nuSpin that play every 50 songs or so to let listeners know the electronic music broadcast is brought to you by nuVibrations LLC.  I've got a lot of music gear here in my work space that I use to record and produce the clips and work on my synthesizer.  Gear includes:  Audio Technica AT4050 Microphone, Focusrite Green mic pre-amp, Tascam 24/96k usb audio capture device, guitars, mixing board, a Kurzweil K2000 synthesizer.  Everything is arranged in a U-shaped layout to give me easy access to whatever I need at the time.
NOTE: Grooveshark has suspended operations and the nuVibrations Broadcast is currently unavailable.
The Future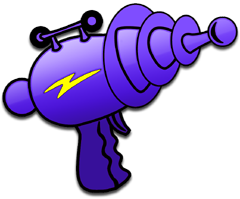 Where does my electronic music broadcast go from here?  I am looking forward to adding songs that users of my VST Instrument compose.  I may add a few of my own as well.  As Grooveshark adds new functionality, I will be thinking of ways to use it to make the broadcast more interesting.  Why not give my station a listen today?