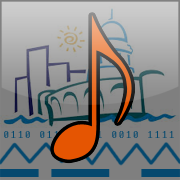 One of my New Year's resolutions was to start an audio developer meetup in Madison. My goal is to build a network of software developers who enjoy working on audio-related projects and use that network to share our expertise, job opportunities, and ideas for new audio software.
Well, I did it! The Audio Software Developers Meetup is now a reality and we even have a first meeting scheduled for Thursday, March 13th at 6:00pm at Sector67! And not only that, but Madison's own MusicNotes has generously offered to be a sponsor!
I hope you will join us on March 13th for a talk about iOS audio development with Janie Clayton-Hasz. We will also have an open discussion about future meeting topics.